This light and refreshing radish salad is great for lunches, snacks and barbecues alike.
Radish Summer Salad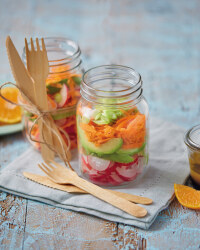 Recipe Information
Ingredients
250g pack Radishes
100g Grated Carrot
½ bunch Spring Onions
1 large Avocado
50g The Pantry Sultanas
60ml Del Rivo Orange Juice
10ml The Pantry Lemon Juice
5ml Balsamic Vinegar
20ml Specially Selected Olive Oil
Sea Salt and Black Pepper
Method
Put the sultanas in the orange juice to soak while you make the salad.
Wipe, trim and slice the radishes and spring onions thinly.
Peel, de-stone and dice the avocado flesh, then sprinkle over the lemon juice to stop it discolouring.
Put the radish, carrot, spring onion and avocado in a large bowl.
Add the balsamic vinegar and olive oil to the orange and sultanas, season with a little salt and pepper.
Pour this over the salad and gently toss – then serve.