This delightfully vibrant cake is as delicious as it is colourful.
Rainbow Cake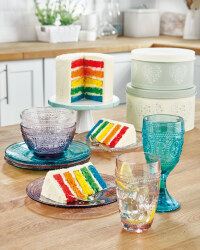 Recipe Information
Ingredients
Makes one 5-tiered cake
5 Large Free Range Eggs
280g Perfect for Baking Spread
280g The Pantry Self Raising Flour
280g The Pantry Caster Sugar
2 tsp The Pantry Baking Powder
35ml Milk
½ tsp of each, red, yellow, green and blue Food Colour Gel
¼ tsp red and ¼ tsp yellow Food Colour Gel to make orange
Non-stick baking parchment
Butter Icing ingredients
300g Unsalted Butter, at room temperature
560g Icing Sugar
40ml Milk
1 tsp Vanilla Essence
½ tsp Yellow Food Colouring
Method
Pre-heat the oven to 180°C/350°F/Gas Mark 4.
Cut out 5 circles from the baking parchment and line the bases of the tins.
Put the flour, spread, caster sugar, eggs, baking powder and milk into a food processor and mix until well combined.
Divide the mixture into 5 bowls.
Add ½ tsp of the food colour gel into each sponge mix and mix well.
Put each coloured sponge mix into the prepared cake tins. Spread the mix evenly and make a slight dip in the centre, to help achieve an even rise.
Bake in the oven for approximately 18 minutes until the sponge is cooked, risen and springy to touch.
Allow to cool, then remove the sponges from the tins and remove the paper from the bottom.
Next, make the butter icing. Sieve the icing sugar, cut the butter into small chunks and add together in a bowl, beating well until smooth. Then add the food colouring, vanilla essence and milk and mix well.
To assemble the cake, smear a little icing on a plate.
Then put the blue sponge on top, cover with a thin layer of icing.
Repeat with the green, yellow, orange and red, layering with a thin layer of icing.
Spread the rest of the icing all over the sides and on top of the cake and then serve.