A delightfully fruity and refreshing Springtime dessert.
Raspberry Cranachan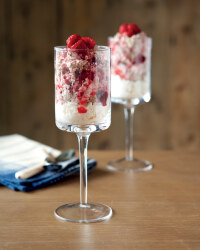 Recipe Information
Ingredients
80g Porridge Oats
200ml Double Cream
100ml Crème Fraiche
50g Honey
45ml Scotch Whisky
150g Fresh Raspberries
Find your ingredients online on Click & Collect or find your nearest store using our Store Finder.
Method
Preheat the grill to high, put the oats onto a baking tray.
Toast under the grill till lightly golden, about 3 mins.
Whisk the cream till it just holds its shape, add the crème fraiche, honey and the whisky and gently mix.
Keep a little of the toasted oats to one side for decoration.
Add the rest to the cream mixture and mix.
Layer the oat mixture and the raspberries in four glasses; decorate the top with a couple of raspberries and a sprinkle of the oats.