A vibrant little dish of braised red cabbage, celery, potatoes and onion.
Red Cabbage and Potato Hash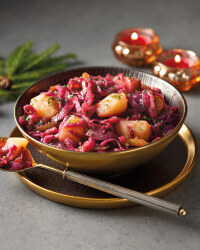 Recipe Information
Ingredients
400g Red Cabbage
1 x large Red Onion
400g Potatoes
1 x stick Celery
2 x Cloves Garlic
350ml boiling Water
Juice x 1 Lemon
50ml Soy Sauce
1 x tsp Paprika
1 x flat tsp Dried Oregano
30g Tomato Purée
Sea Salt and Black Pepper
Fresh Parsley or Thyme
Method
Peel the onion and thinly slice. Thinly slice the red cabbage. Wipe the celery and thinly slice.
Peel and chop the potatoes into medium size chunks. Peel and finely chop the garlic.
Put all the above into a large saucepan. In a large bowl, mix the water, soy sauce, paprika, lemon juice, oregano and tomato purée, then season with some salt and black pepper.
Pour over the vegetables – bring to the boil, cover and simmer for 40 minutes. Serve topped with some fresh thyme or parsley.