A delicious jam recipe that's easy to make and tastes amazing with everything.
Rhubarb and Orange Jam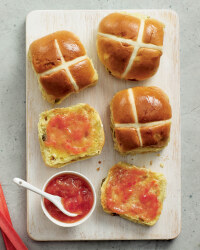 Recipe Information
Ingredients
600g Fresh Rhubarb
300g Caster Sugar
1 Large Orange
60ml Water
Method
Grate the rind from half the orange then juice.
Wipe the rhubarb and chop into small chunks. Put into a heavy based pan with the orange juice, grated orange rind, caster sugar and water. Slowly bring to the boil, stirring as you cook, to make sure the sugar dissolves.
Cook on a medium heat without a lid, stirring occasionally, for about 25 minutes, until thick. It will thicken up more as the jam cools.
Allow to cool, then store in a pot in the fridge.
Great on hot cross buns, as a filling for victoria sponge cake or on cup cakes.