Rhubarb and ginger gin, scotch whisky, lemon juice and homemade honey-ginger syrup shaken over ice and served.
Rhubarb Gin Penicillin Cocktail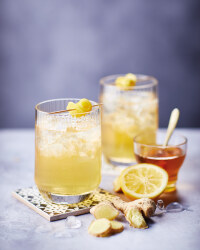 Recipe Information
Ingredients
For the Honey-Ginger Syrup:
170g Honey
230ml Water
8cm piece fresh Ginger, peeled
For the Cocktail:
100ml Rhubarb and Ginger Gin
25ml Lemon Juice
40ml Honey-Ginger Syrup
Ice Cubes
25ml Islay Scotch Whisky
Lemon Peel, for garnish
Method
First, make the syrup. Grate the ginger and put in a small saucepan along with the water and honey.
Bring to the boil and simmer for 5 minutes – allow to cool and refrigerate.
To make the cocktail, mix the Rhubarb and Ginger Gin, lemon juice, syrup and some ice into in a cocktail shaker. Shake well.
Fill 2 glasses with some ice and strain over the cocktail.
Float the Scotch over the top using the back of a spoon to allow it to float.
Garnish with some lemon peel and serve.