British Sunday Dinner classic. Perfect for the whole family to enjoy.
Roast Chicken Dinner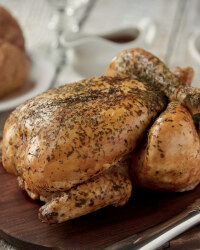 Recipe Information
Ingredients
1 Large Whole Chicken
800g Frozen Roast Potatoes
1 pack 12 Frozen Yorkshire Puddings
1 x 250g bundle of Asparagus
500g Carrots
35g Chicken Gravy Granules
420ml boiling water
A little Olive Oil
Black Pepper
3g Parsley (optional).
Find your ingredients online on Click & Collect or find your nearest store using our Store Finder.
Method
Pre-heat the oven to 200 C/Gas Mark 6.
Put the chicken in a large roasting dish and rub it with a little olive oil. Then, pour some water into the roasting dish around the chicken and roast for 90 minutes in the middle of the oven.
After 65 minutes, put the potatoes into a roasting dish and in the oven on the top shelf.
Peel and cut the carrots into batons, then trim the ends of the asparagus. Cook the carrots and asparagus in salted, boiling water for 10 minutes.
Put the Yorkshire puddings in the oven on a baking sheet and cook for 10 minutes. Baste the chicken with juices in the pan, sprinkle over the parsley and some black pepper. Then, make the gravy by pouring boiling water over the granules.
Ensure the chicken is thoroughly cooked and piping hot throughout and no pink meat remains, the juices run clear and when pierced with a thin skewer at the thickest part of the meat.
Serve the chicken alongside the vegetables, Yorkshire puddings and gravy.