The perfect recipe for roast goose with chestnut, apple and sultana stuffing.
Roast Goose with Chestnut, Apple and Sultana Stuffing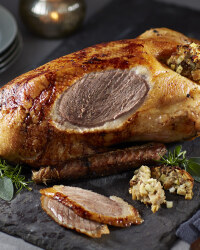 Recipe Information
Ingredients
1 x 4.5kg Goose 600g Specially Selected Pork and Herb Sausages
3 Cox Apples
1 Large Onion
1 Stick Celery
200g cooked Chestnuts
1 Large Egg, beaten
3 slices Brown Bread
50g The Pantry Sultanas
80ml Del Rivo Apple Juice
100ml Napoleon Brandy
1 Quixo Chicken Stock Cube
300ml Water
Salt and Black Pepper
Quixo Gravy Granules
Method
Pre-heat the oven to 190°C/375°F/Gas Mark 5.
Wash the goose inside and out, remove any obvious fat, pat dry and season with some salt and black pepper.
Cut the bread into small pieces then soak the sultanas and bread in the apple juice.
Peel the onion and core the apples.
Chop the apples, onion and celery into small pieces.
Skin the sausages and put the meat into a large mixing bowl.
Add the chopped apple mix, the beaten egg, the soaked bread and sultanas and season with some salt and pepper, then mix well.
Use this to stuff the neck and body cavity of the goose.
Put the goose in a roasting tin, breast side down and roast for 90 minutes.
Dissolve the stock cube in 300ml boiling water and mix with the brandy.
Remove the goose from the oven, pour off any juices and put to one side.
Put the goose back in the roasting tin, pour over the brandy stock and roast for a further 90 minutes, basting as you cook.
Test the goose is cooked by inserting a skewer near the thigh meat – if the juices run clear it's cooked.
If not return to the oven for another 15 minutes and recheck.
Drain off the juices into the juices from before, but drain off any fat.
Heat through in a saucepan and thicken with the gravy granules.
Carve and serve with the brandy gravy and a spoonful of stuffing.