Parsnips roasted in a mixture of coconut oil and chopped garlic.
Roasted Parsnips with Coconut Oil and Walnuts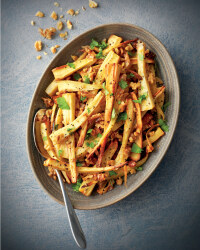 Recipe Information
Ingredients
800g Parsnips
100g Coco Loco Coconut Oil
2 cloves Garlic
50g Walnuts, roughly chopped
5g fresh Parsley, chopped
Sea Salt and Black Pepper
Method
Pre-heat the oven to 200°C/Gas Mark 6.
Peel the parsnips. Cut in half lengthways and cut each half into thirds lengthways. Peel and mince the garlic.
Toss the parsnips with the coconut oil and the garlic in a bowl – season with salt and pepper.
Roast in the oven for 20 minutes, turning once during the cooking, then sprinkle over the walnuts.
Roast for a further 5 minutes.
Serve sprinkled with the chopped parsley.