Fruity and luxurious, this tangy cocktail is sure to impress at parties.
Roasted Pineapple Schnapps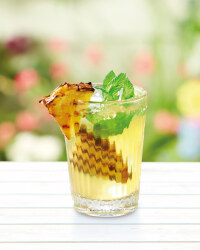 Recipe Information
Ingredients
300ml Oscar's Peach Schnapps
½ fresh Pineapple
Juice of 1 lime
500ml Del Rivo Pineapple Juice
Fresh Mint leaves
Gianni's Ice Cubes
Method
Cut the pineapple into slices – either griddle them or put them on the barbeque until they are charred.
Meanwhile, put the Schnapps into a large jug, add the charred hot pineapple to the Schnapps, add some mint leaves and allow it to infuse for 30 minutes.
Then pour in the pineapple and lime juice and plenty of ice cubes and serve.
For a longer drink add 500ml Vive Lemonade.