Quick and tasty quiche recipe made with salmon, goat's cheese and shortcrust pastry.
Salmon & Goat's Cheese Quiche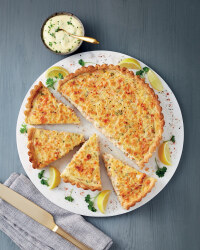 Recipe Information
Ingredients
200g Specially Selected Smoked Salmon
375g Ready Rolled Shortcrust Pastry
100g Specially Selected Hollandaise Sauce
150g Goat's Cheese
80g Shallots, thinly sliced
8g Fresh Parsley
3 Medium Eggs
40ml Whole Milk
Black Pepper
Paprika
22cm Loose Bottom Fluted Quiche Tin
Method
Pre-heat the oven to 200°C/Gas Mark 6.
Line the quiche tin with pastry.
Crumple tin foil around the inside and bake in the oven for 5 minutes.
Gently remove the foil and bake for another 3 minutes, then allow to cool.
Finely chop the parsley.
Crumble the goat's cheese in a bowl.
Add the hollandaise sauce, eggs, parsley, milk and shallots.
Season with black pepper and beat well.
Thinly slice the smoked salmon and fold into the cheese mixture.
Spoon into the pastry case.
Sprinkle over the paprika and bake in the oven for 20 minutes.