Baby Weaning, 12+ months, Salmon and Vegetable Risotto
Salmon and Vegetable Risotto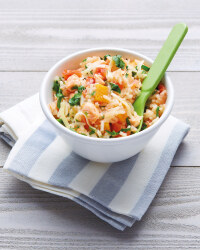 Recipe Information
Ingredients
50g Onion, finely diced
1 tsp Unsalted Butter
100g Basmati Rice
2 Ripe Vine Tomatoes, finely chopped
150g Butternut Squash, peeled and cut into 1cm cubes
50g Fresh Washed Spinach, cut into thin slices
450ml Boiling Water
1 Fillet of Fresh Salmon, skin removed – around 100g
50g Cheddar Cheese, grated
Method
Sauté the onion in butter in a frying pan for 2 minutes.
Add the rice and cook for 1 minute, then add half the water and the butternut squash and bring to the boil.
Simmer for 5-10 minutes until the water has reduced and the squash is soft.
Cut the salmon into small chunks and add to the pan with the chopped tomatoes. Cover and simmer for 5-8 minutes.
Add the spinach and cook until wilted, adding a little water if needed.
Serve warm and sprinkle with grated cheese.