Fluffy cheese souffleé with a creamy hazelnut and wholegrain mustard sauce.
Savoury Cheese Souffleé with a Hazelnut Mustard Chive Sauce by Judy Joo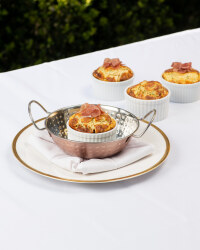 Recipe Information
Ingredients
Hazelnut Mustard Chive Sauce:
50g/ 50ml Milk
50g/ 50ml Double Cream
30g/ 4 tbsp Parmesan Cheese, grated
1 ½ tsp Whole Grain Mustard
½ tsp Plain Flour
1 tbsp Chives, finely chopped
1 ½ tbsp Hazelnuts, finely chopped
1 tsp Lemon Juice, freshly squeezed
Salt, to taste
Souffleé:
1 ½ tbsp Unsalted Butter, plus more for greasing the ramekins
3 - 4 tbsp Parmigiano-Reggiano, powdered or finely grated for dusting the ramekins
1 ½ tbsp Plain Flour
140ml Milk
½ tsp Dijon Mustard
1 pinch of Smoked Paprika
2 Large Egg Yolks
2 ½ Large Egg Whites, chilled
¼ tsp Cream of Tartar
45g Mixed Cheese (15g Gruyère, 15g Comté, 15g Parmigiano-Reggiano, grated), plus more for sprinkling
1 tbsp Chives, finely chopped
Salt and Freshly Ground Black Pepper
2 rashers of Prosciutto, thinly sliced into 3cm long pieces
Method
Hazelnut Mustard Chive sauce:
Tip in the milk, double cream, Parmesan cheese, and wholegrain mustard, and whisk together over an indirect medium heat on the hob.
Once simmering, whisk in flour and cook for 1-2 minutes, until thickened.
Remove from heat and set in a warm place.
Just before serving, add chives, hazelnuts, lemon juice, and season to taste with salt.
Soufflé:
Heat up your smoker grill to 200°C.
Grease the interior of 4 ramekins (8cm diameter) with softened butter.
Spoon about 1 tsp of grated Parmigiano-Reggiano into each ramekin.
Transfer prepared ramekins to the refrigerator until ready to use.
Combine egg whites with cream of tartar and beat on high speed until firm, glossy peaks form.
Add ⅓ of whipped egg whites at a time to the béchamel base and stir well using a spatula until whites are thoroughly combined and soufflé base has a looser consistency.
Mix in all of the grated cheese and chives.
Spoon the soufflé batter into the prepared ramekins equally, filling them up. Sprinkle with additional grated Parmesan.
Transfer the soufflé to pre-heated smoker/grill and bake until well-risen and nicely browned on top, about 12 minutes at 200°C for slightly runny centre.
Bake for 15 minutes at 200°C for a more set centre and 17 minutes at 190°C for fully cooked centre for your souffle.
Once baked, top with Prosciutto and serve immediately with cheese sauce.