A refreshingly fruity long drink to sip on a hot summer's afternoon.
Scottish Garden Cocktail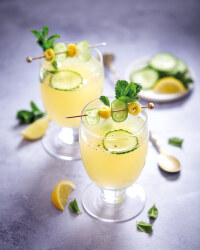 Recipe Information
Ingredients
120ml Eidyn Botanical Gin
25g Fresh Mint
½ Cucumber, sliced
Juice of 1 Lemon
2 tsp Honey
60ml Cloudy Apple Juice
Costellore Blanc de Blanc
Method
Juice the lemon and mix with the honey.
Keep 4 sprigs of mint and tear up the rest.
Keep 8 slices of cucumber for garnish.
Put the torn mint in a cocktail shaker along with the remaining cucumber, apple juice, lemon and honey and gin. Add some ice cubes and shake well.
Divide between 4 glasses – top with the Blanc de Blanc and garnish with mint and cucumber to serve.