A simple yet indulgent dessert with a kick of whisky. Try making your own shortbread or serve alongside your favourite.
Scottish Possets with Shortbread Biscuits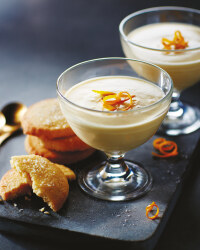 Recipe Information
Ingredients
For the possets:
400ml Scottish Double Cream
30ml Scotch Whisky
25ml Honey
1 Orange
40g Caster Sugar
For the biscuits:
250g Scottish Butter, at room temperature
100g Caster Sugar
1 tsp Vanilla Essence
250g Plain Flour
Method
For the possets:
Place the juice of half the orange, caster sugar, honey and whisky into a bowl and stir well.
Put the cream into a saucepan and gently bring to the boil. Pour over the whisky mixture and stir well.
Pour into 4 glasses – allow to cool and then refrigerate to set.
For the biscuits (4 large or 8 small):
Pre-heat the oven to 180°C/350°F/Gas Mark 4.
Cream the butter, vanilla and sugar until pale and fluffy. Add the flour and mix well. Roll out to 1cm thick and cut into shapes.
Bake on a lightly greased baking sheet for 10 minutes.
Allow to cool then serve alongside the possets, sprinkled with grated orange rind.