Shortbread and almond base with a raspberry, yoghurt and whipped cream filling.
Scottish Raspberry Semifreddo Torte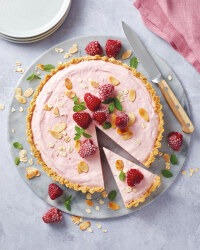 Recipe Information
Ingredients
Shortbread Crust
150g Scottish Shortbread Biscuits
50g Scottish Porridge Oats
40g Flaked Almonds
75g Melted Scottish Butter
For Filling
170g Scottish Raspberries
250ml Scottish Double Cream
375g Scottish Fat Free Natural Yogurt
75g Icing Sugar
1 Lemon, zested
23cm Fluted Tart Tin
Method
Pre-heat the oven to 180°C Fan/Gas Mark 6. Break the shortbread into pieces and place in a food processor with the oats and flaked almonds and blitz until finely ground.
Stir through the melted butter, then press into the base and sides of the tin.
Bake for 10 minutes, then leave to cool. Whip the cream and icing sugar to soft peaks, then add the yogurt and mix until combined.
Force the raspberries through a sieve and discard seeds, then fold the strained raspberries into the whipped cream and yogurt, along with the lemon zest.
Spoon the filling into the crust then smooth the top. Freeze for at least 3-4 hours – the filling should be firm but not frozen solid. If you freeze the torte fully, leave to defrost for 1 hour in the fridge before serving. When ready to serve, top with fresh raspberries, flaked almonds and a scattering of oats.