Sensational fried seabass fillets
Seabass - with cauliflower puree and parsley butter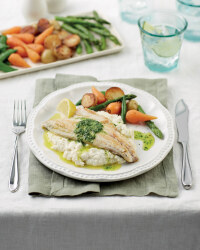 Recipe Information
Ingredients
3 x 180g packs Sea Bass fillets
1 x Cauliflower
70ml Double Cream
70g Mascarpone
8g Parsley
125g Salted Butter – at room temperature
Juice of ½ Lemon
Rapeseed Oil
Sea Salt and White Pepper
Method
Finely chop the parsley and combine with the butter and lemon juice.
Roll the parsley butter into a sausage shape and chill. Once chilled, cut into 6 portions.
Cut the cauliflower into quarters. Then, add the cauilflower to boiling, salted water and boil for 15 mins or until tender.
Drain the cauliflower well and put into a food processor along with the mascarpone and the cream. Blitz until a puree and season with some white pepper.
In a frying pan fry the seabass fillets for 5 minutes each – turning once during. Once each fish fillet is cooked put them in the oven to keep warm while cooking the rest.
Serve a fish fillet on a bed of the cauliflower puree topped with a portion of the parsley butter.