Sheet pancake recipe with peanut butter, white chocolate, lemon curd and blueberries.
Sheet Pancake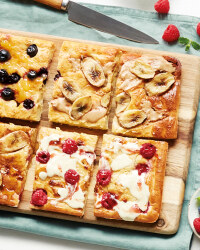 Recipe Information
Ingredients
450g Flour
570ml/1 pint of Milk
2 tbsp of Caster Sugar
3 Eggs
2 tsp Baking Powder
1 tbsp Butter, melted
1 tsp of Madagascan Vanilla Extract
1 Banana
1 pinch of Ground Cinnamon
A handful of Raspberries
Jam (optional, to glaze the raspberries)
25g White Chocolate
A handful of Blueberries
1 tbsp Lemon Juice
1 tbsp Peanut Butter
Method
Pre-heat the oven to 220°C/Gas Mark 7. Line a baking sheet tray (35 x 25cm) with baking paper.
Add all the dry ingredients and mix thoroughly.
In a large bowl whisk the milk, eggs, vanilla extract and melted butter together until the mixture looks light and bubbly.
Fold all the dry ingredients into the wet ingredients using a wooden spoon or spatula or very gently with a hand whisk.
Pour the batter mixture into the baking tray and spread evenly.
Add your topping covering a quarter of the tray with each flavour.