These simple yet delicious shortbread biscuits are a guaranteed hit at parties.
Shortbread Biscuits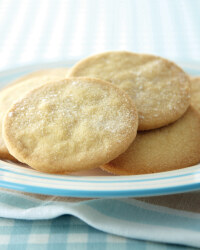 Recipe Information
Ingredients
325g The Pantry plain flour
225g Greenvale lightly salted butter
110g Silver Spoon icing sugar
Method
Preheat the oven to 180°C/350°F/Gas Mark 4.
Either in a food processor or by hand, mix the ingredients together until you have smooth dough.
Roll out the dough to about 5mm, and cut into rounds.
Bake on a lightly greased baking tray for about 10 mins until lightly golden, allow to cool a little then transfer to a cooling rack.