Lean diced beef, stewed with seasonal vegetables and two oranges for a zesty twist.
Simple Beef Casserole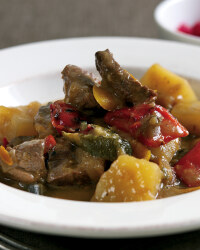 Recipe Information
Ingredients
3 tbsp olive oil
800g lean diced beef
Coarse ground black pepper
1 bag frozen roasted vegetables
2 medium oranges
2 large potatoes, peeled and cut into 3-4cm cubes
200ml water
3-4 tbsp meat gravy granules
Method
Place a large saucepan on the stove; add the 3 tbsp olive oil and heat.
Remove the beef from the packet and dry well on kitchen towel.
Season the beef with a little pepper, then, gently brown in the hot olive oil.
Once well browned, add the packet of vegetables straight from the freezer.
Mix well, then add the zest and juice from the oranges, potatoes, water and a little more pepper and mix really well.
Bring to the boil, then turn the heat right down to a simmer, place a lid on the saucepan and simmer for between 1½-2 hours, or until the beef is really tender, but not falling apart.
Once cooked, add the gravy granules and stir until thickened, then serve.