An easy way to make pasta from scratch using flour, eggs and salt.
Simple Fresh Pasta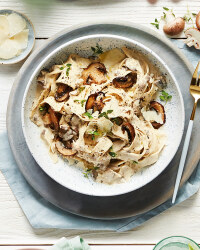 Recipe Information
Ingredients
290g Plain Flour, sieved
2 x Medium Eggs
2 x Medium Egg Yolks
Salt
Method
Add the eggs to the flour and blend until the mixture looks like fine breadcrumbs.
Mix with your hands to form a stiff dough.
Knead briskly for 1 minute and wrap in cling film.
Leave to rest for approx. 30 minutes.
Cut the dough in half with a knife and, on a lightly floured surface, flatten each piece using a rolling pin.
Roll out until really thin or use a pasta machine if available.
Cut into lengths to make spaghetti, tagliatelle or small parcel shapes to make ravioli.
Leave to dry for an hour hanging or on a wire resting tray.
Cook in a pan of salted boiling water for 2-3 minutes.