A little clever thinking adds more veg to the beans to make the meal a little smarter!
Smart Beans on Toast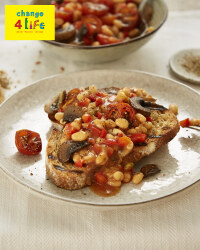 Recipe Information
Ingredients
1 red pepper, deseeded and finely chopped
4 spring onions, finely chopped
1 x 420g can reduced-salt and sugar baked beans
150g mushrooms, sliced
16 cherry tomatoes, halved
4 medium slices wholemeal bread
4 tsp lower-fat spread
Freshly ground black pepper
Method
Put the pepper and spring onions into a large saucepan with 3 tbsp of water.
Cook for 2-3 minutes over a low heat, until the water has evaporated.
Add the beans, mushrooms and cherry tomatoes to the saucepan and heat gently for 5-6 minutes, stirring often, until the beans are piping hot.
Meanwhile, toast the bread.
Spread each piece with 1 tsp of lower-fat spread.
Pile the beans on to the toast and serve, sprinkled with black pepper.
Recipe provided by Change4Life