Quick, easy and creamy. This bacon and onion tagliatelle is perfect for a mid-week dinner.
Smoked Bacon and Red Onion Tagliatelle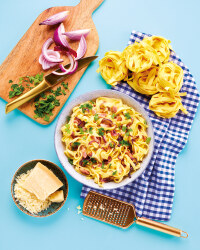 Recipe Information
Ingredients
500g Tagliatelle
1 Large Red Onion, halved and chopped
1 pack Smoked Bacon Lardons
200g Tender Stem Broccoli
1 tbsp Rapeseed Oil
For the sauce:
50g Butter
4 tbsp Plain Flour
500ml Whole Milk
100g Cheddar Cheese, grated
To serve:
50g Cheddar Cheese, finely grated
4 tbsp Coriander, roughly chopped
Black Pepper, to season
Method
Start by making the sauce. Melt the butter in a saucepan over a medium heat, then quickly whisk in the flour before adding the milk, stirring continuously to avoid any lumps.
When the sauce has reduced by about one third, add the cheese and stir until melted.
Remove the pan from the hob and cover with foil.
Heat the rapeseed oil in a large pan and fry the bacon lardons until lightly crisp.
Remove the bacon from the pan.
Add the onion and fry until caramelised.
Fill a medium sized pan with water and bring to the boil.
Boil the broccoli for 2-3 minutes, then remove from the pan using a slotted spoon.
Add the pasta and cook according to instructions on pack.
Drain the pasta thoroughly.
Add the sauce, bacon, onion and broccoli to the pasta.
Divide between 4 dishes and top with grated cheese, coriander and a grinding of black pepper.
Serve immediately.