This succulent gammon recipe is perfect for Sunday dinners.
Smoked Gammon with Apple & Plums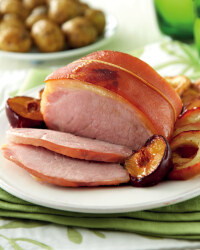 Recipe Information
Ingredients
1 x 650g Smoked Gammon Joint
4 x Funsize Apples
1 x 400g pack Plums
1 x 400g pack Baby Jacket Potatoes
Method
Preheat the oven to 200°C/400°F/Gas Mark 6.
Put the gammon in a large roasting tray and cook in the oven for 40 minutes.
Meanwhile, core and slice the apples, cut the plums in half and remove the stone.
After 40 minutes take the gammon out of the oven and put the plums and apple slices around the roast and continue cooking for 15 minutes.
Meanwhile, put the potatoes and the herb oil from the pouch in a small ovenproof dish and bake in the oven for 15 minutes.
Slice the gammon joint and serve with the apples, plums and potatoes.