These make perfect canapés or even a tasty, light starter.
Smoked Salmon, Quark and Celery Bites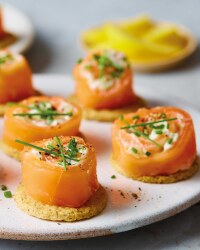 Recipe Information
Ingredients
1 200g Pack Smoked Salmon
1 Stick of Celery
200g Soft Cheese
5g Fresh Chives
1 tsp Horseradish
15 Specially Selected Black Pepper Oatcake Bites
Method
Lay 5 slices of the smoked salmon on a chopping board and put to one side.
Finely dice the celery, the chives and the remaining smoked salmon, place in a bowl with the soft cheese and mix well.
Put equal amounts of the mixture onto each of the 5 slices of smoked salmon, placing in the centre of each.
Fold over the sides of the salmon to make a roulade shape then place in the fridge for 15 minutes to chill.
Cut each roll into 3 equal portions with a sharp knife and serve on Specially Selected oatcake bites.