Smoked Salmon and Cream Cheese Blinis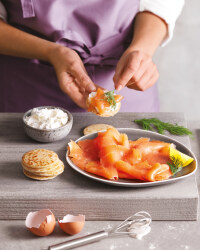 Recipe Information
Ingredients
100g plain flour
1 egg, separated
150ml milk
25g butter, melted
cream cheese
smoked salmon
Method
Place the flour into a bowl and season with salt and pepper.
Add the egg yolk and half of the milk. Whisk until smooth, then gradually add the rest of the milk followed by the butter.
Whisk the egg whites (in a perfectly clean bowl) until almost stiff and then fold into the batter.
Heat a lightly greased frying pan and drop in small spoonsful of batter. Cook for 2 - 3 mins on each side.
To finish, spread with cream cheese and top with smoked salmon.