Smoked Salmon Pasta with Spinach & Walnut Salad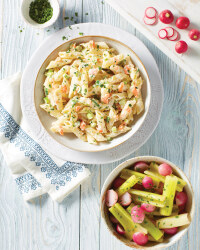 Recipe Information
Ingredients
400g Penne Pasta (or other shape)
100g Spinach, washed and patted dry
50g Walnut Pieces
1 tsp honey
1 tbsp Olive Oil
2 Garlic Cloves, crushed
5 Spring Onions, trimmed and thinly sliced
300ml Reduced Fat Crème Fraîche
110g pack Salmon Flakes
1 tbsp Freshly Parsley, chopped
Salt
Method
Bring a large pan of lightly salted water to the boil and add the pasta.
Stir and cook at a rolling boil for around 8 minutes until al dente.
Place the washed spinach into serving bowl and sprinkle over the walnuts.
Mix together the oil and honey and drizzle over. Set aside.
Heat the oil in a small saucepan and sauté the garlic for 30 seconds.
Add the spring onions and continue cooking until softened. Stir in the crème fraîche and then the salmon flakes, heating very gently.
Drain the cooked pasta, return to the pan and add the sauce. Stir gently to mix through.
Sprinkle with parsley.