Delicious gourmet-style burger recipe, perfect for a barbecue.
Smoky Joe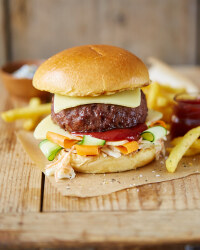 Recipe Information
Ingredients
2 x packs 340g Specially Selected Wagyu Beef Burgers
1 x pack 4 Specially Selected Brioche Burger Buns
8 x slices Smoky Cheddar Cheese Slices
80g Fiery Chilli Ketchup
1 x Courgette
1 x Carrot
160g Specially Selected Creamy Coleslaw
Find your ingredients online on Click & Collect or find your nearest store using our Store Finder.
Method
With a peeler – peel long ribbons from the courgette and the carrot.
Barbecue or grill the burgers for about 6 minutes each side.
Split the buns and toast the cut sides.
Put a slice of cheese on top of each burger – return to the grill just to melt slightly.
Assemble the burgers – First divide the coleslaw between the bases of the buns.
Then top with some ribbons of carrot and courgette.
Then top this with a slice of the smoky cheddar – top that with some fiery ketchup, then the cheese topped burger and lastly the burger bun top.
Aldi Wine Matches
Looking for the perfect wine match for this recipe? See below for our dedicated recommendations: