Thick, beautifully spiced swede soup - perfect for a wholesome lunch or starter.
Spiced Swede Soup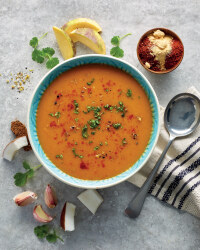 Recipe Information
Ingredients
1 Swede – approx.700g
2 medium Onions
2 cloves Garlic
400ml Asia Coconut Milk
1 Quixo Vegetable Stock Cube
500ml Boiling Water
30g Cucina Tomato Purée
1 heaped tsp Stonemill Paprika
2 flat tsp Stonemill Ground Cumin
1 flat tsp Stonemill Chilli Powder
200/250ml Milk
25g Salted Butter
½ pot fresh Coriander
Sea Salt and Black Pepper
Method
Peel and chop the swede into small chunks.
Peel, half and chop the onions.
Peel and finely dice the garlic.
In a large saucepan melt the butter.
Add the onions and cook gently for 5 minutes.
Then add the garlic, cumin, chilli powder, paprika and chopped swede – cook for a further 2 minutes.
Add the boiling water and crumble in the stock cube.
Pour in the coconut milk and tomato purée, then season with some salt and black pepper.
Bring to the boil, cover and simmer for 25 minutes until the swede is very tender.
Liquidise the soup.
Add enough milk until you have a nice thick consistency.
Chop the coriander, sprinkle over the soup and serve.