Impress guests with these tasty soufflés, made with chopped spinach and grated parmesan.
Spinach and Parmesan Soufflés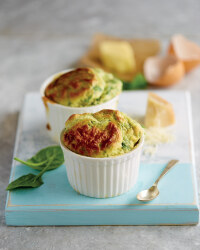 Recipe Information
Ingredients
80g Spinach Leaves
55g Specially Selected Parmigiano Cheese
3 large Eggs
185ml Milk
30g Greenvale Salted Butter
55g The Pantry Plain Flour
1 flat tsp Stonemill Paprika
1 slice White Bread
Sea salt and Black Pepper
A little Rapeseed Oil 6 x 175ml ramekin dishes
Method
Pre-heat the oven to 200°C/400°F/Gas Mark 6.
Finely grate the Parmigiano.
Finely chop the spinach leaves.
Make breadcrumbs with the slice of bread.
In a small saucepan melt the butter.
Add the flour and stir, cooking gently, for 2 minutes, then add the milk, whisking to form a thick paste.
Add the chopped spinach and cook gently for another minute or 2.
Remove the pan from the heat and add the grated Parmigiano.
Season with some salt, black pepper and the paprika – stir well.
Separate the eggs.
Put the egg yolks into the spinach mixture and beat well.
Grease the sides of the ramekin dishes with some rapeseed oil.
Sprinkle some breadcrumbs onto the oil to coat the sides.
Put the egg whites into a clean mixing bowl and whisk until swollen, white and peaks form.
Using a metal spoon, add half of the whisked egg whites into the spinach mixture and stir until well mixed. Then add the other half, gently folding until just combined. Spoon the mixture into the prepared ramekins. Put them onto a baking tray. Bake in the oven for 15 minutes until the soufflés are puffed and golden. Serve immediately.