Sprouts with Hazelnuts and Clementine Butter
Sprouts with Hazelnuts and Clementine Butter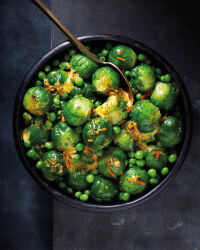 Recipe Information
Ingredients
40g Greenvale Salted Butter, softened
Zest from 1 medium Clementine, finely grated
Freshly Ground Black Pepper
500g Brussels Sprouts
300g Frozen Peas, thawed
2 tbsp Parsley, freshly chopped
Method
Mix the clementine zest into the softened butter and season with freshly ground black pepper. Roll into a sausage shape, wrap in foil and chill until required.
Trim the sprouts, if necessary, and cook in a pan of lightly salted boiling water for 5 minutes. Add the peas, return to the boil and cook for another minute. Drain thoroughly and put into a warmed serving dish. Slice the prepared butter into discs and dot on top.
Sprinkle over the chopped parsley and serve immediately.