St Clements Syllabub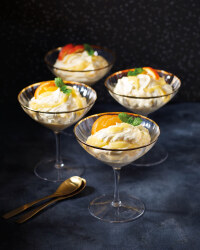 Recipe Information
Ingredients
For the Clementine Curd:
3 medium Clementines
Juice of 1 Lemon
200g The Pantry Granulated Sugar
150g Greenvale Unsalted Butter, roughly chopped
2 large Eggs
2 Egg Yolks
For the Syllabub:
250g The Cheese Emporium Mascarpone Cheese
400ml Double Cream
2 Clementines, 1 juiced/1 sliced
Juice of 1 Lemon
200g Clementine Curd (see above)
Fresh Mint Leaves, to serve
Method
First prepare the Clementine Curd - any spare can be stored in sterilised jars in the refrigerator. Grate the zest from the clementines and squeeze the juice. Put both into a saucepan along with the lemon juice, sugar and butter. Warm over a low heat until the butter has melted. Transfer this mixture to a heatproof bowl and place it over a pan of simmering water. Beat together the eggs and sieve them into the clementine liquid. Stir the mixture until well-mixed. Continue cooking the mixture over the water, stirring frequently, for around 1 hour until it thickens and coats the back of a spoon.
To make the Syllabub, whisk the mascarpone until smooth. Slowly pour in the double cream whisking continuously until the mixture is pale and thick. Fold in the clementine juice, lemon juice and cooled Clementine Curd to create a marbled effect. Spoon the mixture into 8 serving dishes (or 15-20 shot glasses if serving at a party). Top each with 1/2 slice of clementine (or small triangles of sliced clementine if using shot glasses) and mint leaves. Chill until ready to serve.