Mouth-wateringly tender beef joint, stewed in a rich beef stock with fresh lemon, red wine and Chantenay carrots.
St Jean Beef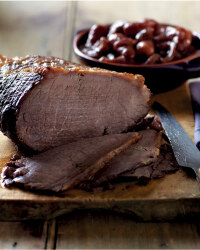 Recipe Information
Ingredients
1.4kg Severn Vale British Beef Roasting Joint
2 x onions - peeled and thickly sliced
2 x stalks celery - chopped
250g Chantenay Carrots
1 x bottle Baron St Jean red wine
1 x fresh lemon cut in half
1 x Quixo beef stock cube
Method
Put all the ingredients into the slow cooker, crumbling the stock cube into the red wine.
Cook as instructions on the slow cooker.
Approx 5/7 hours on high or 8/10hours on low.
If you prefer the sauce thicker - use some Quixo gravy granules to thicken the sauce in a saucepan.