Succulent, tender and tasty chicken with a honey and vinegar glaze, served alongside a crisp salad.
Sticky Chicken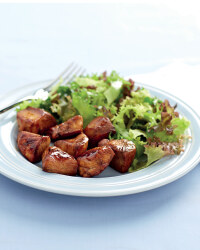 Recipe Information
Ingredients
1 300g pack Specially Selected Free Range Chicken Breasts
20ml Cucina Balsamic Vinegar
20ml Asia Dark Soy Sauce
20ml Grandessa Clear Honey
Salad
Find your ingredients online on Click & Collect or find your nearest store using our Store Finder.
Method
Cut the chicken into large chunks.
Mix the soy sauce, balsamic vinegar and honey together, add the chicken chunks and mix well.
Put in the fridge to chill for at least 30 minutes.
Prepare a crisp salad of your choice.
In a frying pan or small wok, add the chicken with its marinade, cook on a medium heat, stirring as you do for about 15 minutes, or until all the marinade has cooked off.
Serve with the crisp salad.