Roast chicken with a sticky and sweet glaze, served with rustic roast potatoes.
Sticky Glazed Chicken & Salad Potatoes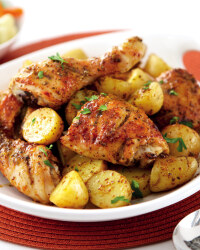 Recipe Information
Ingredients
2 x 510g packs Chicken Leg Quarters
3 tbsp Pure Clear Honey
Juice and zest of 1 orange
1 tbsp Wholegrain Mustard
1 tsp Dried Oregano
600g Salad Potatoes
1 x 1kg bag Frozen Steamed Vegetable Medley
Method
Preheat the oven to 180°C/Gas Mark 4.
Slice each chicken leg into two by carefully cutting through the joint between the drumstick and thigh then make 3-4 cuts across the chicken and place onto a roasting dish.
In a small bowl mix together the honey, orange juice and zest, mustard and oregano then brush all over the chicken.
Place the chicken into the oven and cook for 15 minutes.
Meanwhile boil the salad potatoes in salted water for 5 minutes, then drain.
Take the chicken out of the oven and arrange the potatoes around the dish spooning any juices back over the chicken and onto the potatoes, place back into the oven and cook for a further 20 minutes.
Serve with vegetable medley (cooked as per pack instructions).