A hearty everyday favourite. Perfect for family dinners.
Sticky Sweet Pork with Hot Potato Salad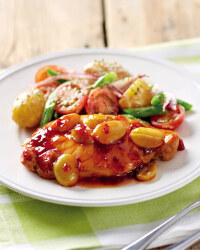 Recipe Information
Ingredients
2 x 300g packs Fresh British Specially Selected Outdoor Bred Pork Loin Steaks
80g Sweet Chilli Sauce
130g Bramwells Barbecue Sauce
170g Snack Pack Green Grapes
450g pack Jersey Royal Potatoes
300g pack Cherry Tomatoes
220g pack Green Beans
2 Red Onions
150g Bramwells Mayonnaise
1 tsp Stonemill Paprika
1 tsp Stonemill Dried Parsley
Salt and Black Pepper
Method
Pre-heat the oven to 200°C/400°F/Gas Mark 6.
Mix together the sweet chilli sauce and the barbecue sauce.
Chop the grapes into halves and add to the sauce.
Put the pork loin steaks into a baking dish, pour over the sauce then put into the oven and bake, uncovered for 40 minutes.
About 15 minutes before the steaks are cooked, put the potatoes in a pan of cold salted water.
If they are large, cut in half, then boil for 10 minutes until tender.
Meanwhile, peel the onions and chop finely, then put into a large salad bowl.
Cut the tomatoes in half and add to the onions.
Trim the beans and cut into small pieces, pour over some boiling water and let them stand a minute or two, then drain and add to the salad.
Mix the mayonnaise, parsley and paprika together, season with plenty of black pepper then add this to the salad.
When the potatoes are cooked, drain and add to the salad.
Serve the salad alongside the pork.