This quintessentially British dish is a delightful dessert option for parties.
Strawberry & Cream Scone Towers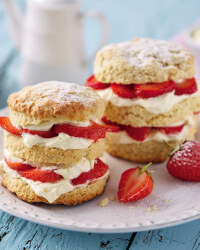 Recipe Information
Ingredients
400g The Pantry Self Raising Flour
85g Greenvale Unsalted Butter, chilled and cut into cubes
70g The Pantry Caster Sugar
1 tsp Baking Powder
1 Pinch of Salt
1 tsp Vanilla Extract
200ml Milk (+ extra to glaze)
Squeeze of Lemon
400g Strawberries, sliced
300ml Cowbelle Double Cream
2 tbsp The Pantry Caster Sugar
1 tbsp The Pantry Icing Sugar
Method
Pre-heat the oven to 200˚C/400˚F/Gas Mark 6.
In a large bowl mix the flour, salt and baking powder.
Using your fingertips, rub the butter into the flour mix until it resembles breadcrumbs and there are no large lumps of butter left. Next add the sugar to the flour mixture and stir through.
Add the vanilla extract and a small squeeze of lemon to the milk. Pour the milk into the flour mixture and, using a knife, stir the mix until it forms dough.
The scone dough may be a little wet but turn it out on to a well-floured surface and use your hands to form a circle of dough about 3-4cm high.
Using a 5cm fluted cutter cut out 4 scones, then form a new circle of dough and cut out another 4. Brush the tops with milk and bake for around 15 minutes until the scones have risen and are golden in colour.
While the scones are cooling, combine the caster sugar with the double cream and whisk until thickened.
When the scones have cooled use a bread knife to carefully slice the scone twice, forming 3 layers. Dollop some cream on the bottom layer and top with fresh strawberries. Place the middle piece of scone on top and repeat. Finally, place the scone top on to create your scone tower, sieve a little icing sugar over the scones and add a slice of fresh strawberry to finish.