Treat your family with this moreish twist on the classic Italian dessert.
Summer Berry Tiramisu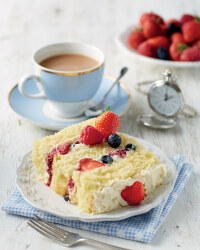 Recipe Information
Ingredients
Sponge:
100g Butter at room temperature
100g Caster Sugar
2 Large Eggs
100g Plain Flour
½ tsp Baking Powder
½ tsp Vanilla Extract
30 x 20cm baking tray
Filling:
250g Mascarpone Cheese
300ml Double Cream
1 tsp Vanilla Extract
1 tbsp Icing Sugar
200g Strawberries
200g Blueberries
150g Raspberries
Method
Pre-heat the oven to 150°C/300°F/Gas Mark 2.
Grease the baking tray and line with greaseproof paper.
Cream the butter and sugar together in a mixing bowl.
Beat in the eggs, baking powder and vanilla extract, then fold in the flour.
Spread the sponge mixture onto the prepared baking tray.
Bake for 20 minutes or until a skewer comes out clean.
Allow to cool completely.
Whisk the cream to soft peaks.
Combine the mascarpone, vanilla extract and icing sugar in a bowl.
Fold in the whipped cream.
Hull and slice the strawberries, reserving a couple of whole ones to decorate the top of the cake.
Use a sharp knife to trim the edges of the sponge and divide the sponge into 3 even slices.
Spread the cream over the top of each sponge slice in an even layer.
Place one of the thirds onto a serving dish. Top with a scattering of blueberries, strawberries and raspberries.
Top with a second slice of sponge and a further scattering of fruit.
Place the final layer of sponge on top and decorate with the remaining fruit.
Chill until ready to serve.