Summer Vegetable Gnocchi Skillet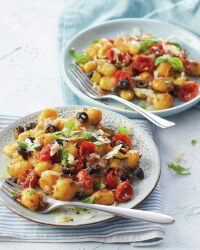 Recipe Information
Ingredients
1 x 500g pack Original Gnocchi
300g Cherry Tomatoes
1 x Courgette
1 x Red Onion
60g Black Pitted Olives
2 x Cloves Garlic
1 x 240g sachet Mozzarella Cheese
30g grated Specially Selected Parmigiano
1 x tsp Dried Oregano
60ml Olive Oil
Sea Salt and Black Pepper
Fresh Basil Leaves
Method
Preheat the oven to 200c/400f/gas 6.
Peel and finely chop the red onion.
Peel and mince the garlic.
Chop the tomatoes in half.
Wipe the courgette and chop into small chunks.
Boil the gnocchi in some salted water for 2 mins.
In a large skillet saute the onion in 25ml olive oil for a few mins on a low light.
Add the garlic and cook a for a few mins.
Add the courgette, black olives, oregano and the chopped tomatoes, season with some salt and black pepper and cook for 5 mins.
Drain the gnocchi and add to the pan and stir well.
Drain the mozzarella and chop into small pieces, sprinkle over the top of the gnocchi.
Put in the oven for 10 mins for the cheese to melt.
Drizzle over the remaining olive oil, serve sprinkled with basil leaves, alongside the grated parmigiano.