Super Sauté Jersey Royals
Super Sauté Jersey Royals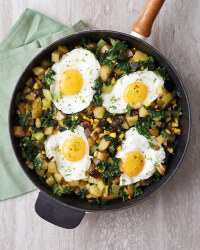 Recipe Information
Ingredients
400g Jersey Royal Potatoes
1 x large Red Onion
2 x sticks Celery
1 x fresh Corn on the Cob
4 x large Eggs
60g curly Kale
60g Specially Selected Rapeseed Oil
Sea Salt and Black Pepper
Method
Wipe the potatoes and chop into small chunks.
Put into a bowl and pour over some boiling water.
Let stand for 5 minutes then drain well.
Peel, halve and chop the red onion into medium chunks.
Chop the celery into small chunks.
With a sharp knife strip the kernels off the corn cob.
Wash the kale and chop. Add the oil to a large frying pan and heat.
Add the potatoes and fry, stirring for a few minutes.
Add the red onion and celery.
Cook for a further 5 minutes.
Add the corn and the kale.
Cook for another 5 minutes.
Season with salt and black pepper.
Crack the eggs into the sauté and cover the pan.
Cook for a few minutes until the eggs are just cooked.