Enjoy your favourite winter dishes the lighter way, with these delicious, healthy recipes. With just a few smart ingredient swaps, you can cut the fat, sugar and calories in a range of dishes the whole family will love.
Super Savoury Rice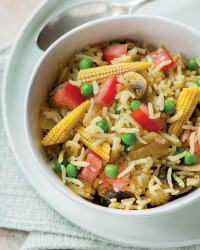 Recipe Information
Ingredients
1 tsp Vegetable Oil
1 medium Onion, finely chopped
100g Closed-cup Mushrooms, sliced
150g Easy-cook Long Grain White Rice
300ml Vegetable or Chicken Stock
75g Frozen Peas
100g Baby Sweetcorn, sliced
1 tsp Curry Powder
1 Tomato, chopped
Method
Heat the oil in a saucepan and fry the onion for 2-3 minutes, then add the mushrooms and cook for a further 2 minutes.
Stir in the rice, then add the stock, peas, baby sweetcorn and curry powder. Stir well. Bring to the boil, turn down the heat and simmer for about 15-20 minutes, until the rice is tender, adding more water if necessary.
Serve the rice in bowls and sprinkle the tomato on top.
Tips
Add a pinch of dried chilli flakes or mixed dried herbs to flavour the rice.
Add 100g of frozen mixed vegetables instead of the baby sweetcorn.