Quick snack recipe for sweet potato crisps and a delicious smoky lime dip.
Sweet Potato Crisps with Smokey Lime Dip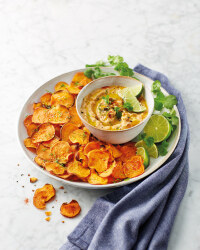 Recipe Information
Ingredients
500g Sweet Potato
50ml Olive Oil
150g Chickpeas
90ml Soya or Almond Milk, at room temperature
30ml Sunflower Oil
1 clove Crushed Garlic
1 ½ tsp Smoked Paprika
½ Lime, squeezed
Salt to taste
Method
Pre-heat the oven to 200°C/Gas Mark 6.
Wipe the potatoes and dry well, then slice thinly, preferably with a mandolin cutter.
In a large bowl, mix the slices with 50ml olive oil.
Bake them in a single layer on baking trays in the oven for about 10 minutes until crisp. Be careful as they can easily burn. Allow to cool.
In a bowl blend the chickpeas until they form a thick paste.
Put the almond milk and lime juice in a separate bowl. Blend slowly with a hand blender, adding the sunflower oil until it thickens and emulsifies, which takes about 1-2 minutes.
Add the chickpea paste to the almond milk mix, along with the paprika, crushed garlic and salt.
Blend again for a few seconds until thoroughly mixed.
Refrigerate for 15 minutes and serve alongside the crisps.