Wholesome and healthy, this sweet potato hash brings together a lovely mix of flavours. Perfect for brunch with the family or a main meal with a difference!
Sweet Potato Hash with Avocado and Mint Yogurt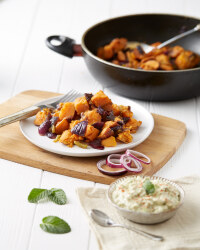 Recipe Information
Ingredients
550g Sweet Potatoes
2 sticks Celery
2 medium Red Onions
3 cloves Garlic
60ml Olive Oil
1 heaped tsp Paprika
1 large ripe Avocado
80g Greek Yogurt
2g fresh Mint
½ tsp Chilli Powder
Juice of ½ Lemon
Sea Salt and Black Pepper
Method
To make the avocado yogurt, halve the avocado, scoop out the flesh and mash along with the lemon juice, chilli powder and yogurt. Finely chop the mint and stir through. Keep in the fridge while you make the hash.
Wash the sweet potatoes, dry well and chop into 2cm chunks. Parboil in some boiling salted water along with the garlic cloves for 5 minutes. Drain well and discard the garlic. Peel, halve and chop the red onions into medium chunks. Wipe the celery and thinly slice.
In a large frying pan or wok, heat the oil. Fry the red onion, celery and sweet potatoes on a medium heat for about 20 minutes, until crisp and slightly fallen. Sprinkle with the paprika and serve alongside the yogurt.