Creamy tagliatelle, made with juicy king prawns and a zesty white wine and cream sauce.
Tagliatelle with Prawns & Asparagus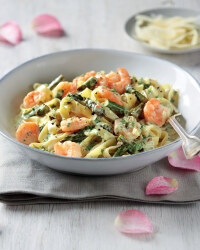 Recipe Information
Ingredients
8 coils Specially Selected Tagliatelle – about 220g
200g Specially Selected Jumbo King Prawns
100g Specially Selected Asparagus Tips
1 large Clove of Garlic, peeled and finely chopped
200ml Double Cream
80ml Baron St Jean White Wine
6g Fresh Parsley, chopped
12ml The Pantry Lemon Juice
Black Pepper
Specially Selected Parmigiano Reggiano Cheese to serve
A little Solesta Olive Oil
Method
Defrost the prawns.
Cook the pasta in a large pan of boiling water as per instructions on the pack – for 8 minutes– then drain well.
Meanwhile, chop the asparagus into chunks.
In a large frying pan or wok, sauté the prawns and the chopped asparagus in a little oil for 3 minutes, add the chopped garlic and cook for another minute.
Add the cream, wine, parsley and lemon juice, cook for another minute until it starts to thicken.
Add the drained pasta, season with some black pepper and heat through gently.
Serve alongside shavings of the Parmigiano.