Fresh, quick and delish - Thai Chicken Stir Fry with Noodles.
Thai Chicken Stir Fry with Noodles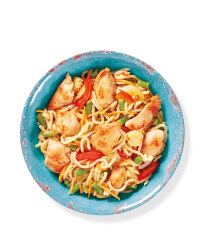 Recipe Information
Ingredients
1 x 535g pack Ready Set Cook Thai Chicken Stir Fry Meal Kit
1 x 300g (2 x 150g) packs Ready to Wok Noodles
3 tsp Vegetable Oil
Method
Heat 3 teaspoons of vegetable oil in a large heavy-based frying pan or wok.
Stir fry the chicken over a medium/high heat for 8 – 10 minutes until the meat is completely cooked through, stirring continuously.
Add the vegetables and stir fry for 1 – 2 minutes.
Reduce the heat to medium/low, add the contents of the sauce sachet and continue to cook for a further 1 – 2 minutes, stirring occasionally.
Stir in both packs of noodles and heat for 1-2 minutes.