Quick and delicious cucumber salad with soy sauce, red onions, peanuts, and coriander.
Thai Cucumber Starter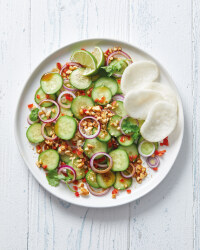 Recipe Information
Ingredients
400g Baby Cucumbers
½ Red onion
1 Red Chilli
2 tbsp. Extra Virgin Olive Oil
1 tbsp. Soya Sauce
1 tbsp. Lime Juice
1 tsp. Honey
To Serve:
40g Roasted Salted Peanuts
Fresh Coriander
Lime wedges
Prawn Crackers (optional)
Method
1. Begin by washing and slicing the baby cucumbers into thin slices.
2. Thinly slice the red onion and then remove the seeds from the chilli and finely dice.
3. Place the soy sauce, olive oil, honey and lime juice into a bowl and whisk to combine.
4. Pour the dressing over the cucumber, red onion and chilli and mix until coated.
5. Roughly chop the peanuts and serve the cucumber salad topped with the nuts and garnished with fresh coriander and lime wedges.
6. For extra crunch serve immediately with prawn crackers