A popular and healthy stir fry that will suit even the most discerning tastebuds.
Thai Style King Prawn Oriental Stir Fry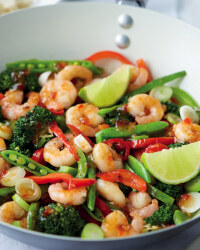 Recipe Information
Ingredients
1 x 150g pack cooked and peeled King Prawns
1 X Red Pepper
1 X Green Pepper
125g Sugarsnap Peas
125g Broccoli
1 X small Red Chilli
1 X 30cm piece of peeled Fresh Ginger
2 X Garlic cloves
40ml Vegetable Oil
1 X pack Ready To Wok Noodles
Homemade sauce:
25g Squeezy Honey
Juice x ½ Lime
½ flat tsp dried crushed Chilli seeds
Makes – 50ml
Find your ingredients online on Click & Collect or find your nearest store using our Store Finder.
Method
Mix all ingredients together to create the homemade sauce.
Slice the peppers into strips – discard any seeds and white pith.
Cut the broccoli into small pieces.
Cut the sugarsnaps in half lengthways.
Peel and mince the garlic.
Cut the chilli in half, discard the seeds and chop finely (keep the seeds if you prefer a hotter stir-fry).
Grate the ginger.
In a wok or large frying pan – heat the oil and stir fry the vegetables with the ginger, chilli and garlic for about 7 mins.
Then add the noodles along with the prawns and homemade sauce.
Heat through for another 7 mins till the noodles and prawns are hot.
Serve immediately.