A popular and healthy stir fry that will suit even the most discerning tastebuds.
Thai Style King Prawn Oriental Stir Fry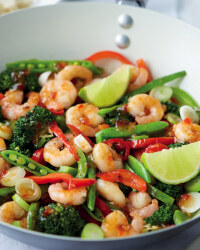 Recipe Information
Ingredients
150g King Prawns, cooked & peeled
1 large Red Pepper, sliced
1 large Green Pepper, sliced
150g Sugarsnaps
1 small organic Broccoli, cut into florets
1 Red Chilli, deseeded and sliced
2 organic cloves of Garlic, crushed
2 inch piece of Ginger, peeled and grated
1 tbsp Vegetable Oil
2 tbsp Dark Soy Sauce
1 tbsp Sweet Chilli Sauce
To Serve
4 Spring Onions, sliced
1 Lime
Fresh Coriander to garnish
Method
Prepare all the vegetables and then heat the oil in a large wok.
Fry the vegetables in the garlic and ginger until they have started to soften but are still crisp.
Add the prawns.
To finish the stir fry, add the soy sauce and sweet chilli sauce and cook for another minute.
Serve the stir fry with a sprinkling of fresh coriander, slices of spring onion, wedge of lime and either rice or noodles on the side.