This lemon, basil & rosemary-infused chicken dish is tasty, quick and - you guessed it - super-easy!
The Easiest Chicken Dish Ever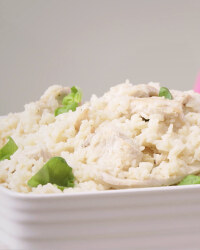 Recipe Information
Ingredients
300g Chicken Breast
10 fresh Basil Leaves
1 cup Uncooked Rice
2 cups Chicken Stock
1 Lemon
Method
Cut the chicken into small strips and brown in a pan for one or two minutes.
Next add rice, chicken broth, squeeze the lemon, and add basil, rosemary and any other fresh herbs, pop lid over the pan and leave for 25 minutes.