Colourful bread salad with fresh chopped tomato, sliced avocado and red onion.
Tomato and Avocado Panzanella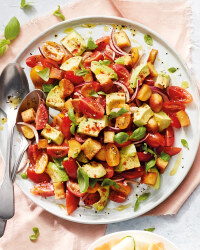 Recipe Information
Ingredients
1 x 220g pack Mixed Baby Plum Tomatoes
1 x 225g pack Vine Tomatoes
1 x pack 2 Ripe Avocadoes
175g left over Ciabatta or Sourdough Bread
1 x Red Onion
3 x cloves Garlic
125ml Olive Oil
1 x Lemon
1x tsp Paprika
1 x 50g tin Anchovies
Fresh Basil Leaves
Black Pepper
Method
Chop the bread into small chunks.
Peel and mince the garlic.
Pour 100ml olive oil and garlic into a large frying pan.
Add the bread and fry until crisp.
Drain the anchovies and chop, finely. Mix them into the pan and season with black pepper.
Fry on medium heat for 5 minutes.
Remove from the hob and allow to cool.
Chop the plum tomatoes in half and cut the vine tomatoes into quarters lengthways.
Peel and slice the red onion.
Cut the avocadoes in half, remove the stone, scoop out the flesh and chop.
Toss the chopped avocado, red onion and tomatoes in lemon juice and paprika in a large bowl.
Add all the ingredients together and drizzle over the remaining oil.
Toss the salad gently.
Sprinkle over some torn basil leaves and serve