Pack your lunchtime Tortilla Wrap with great food pairings, like beetroot, houmous, avocado and carrot.
Tortilla Wrap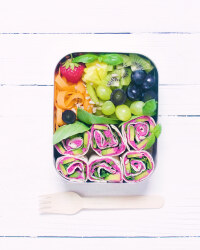 Recipe Information
Ingredients
1 tortilla wrap
3 tbsp houmous
½ ready-cooked beetroot
¼ avocado, sliced
½ carrot, ribboned with a potato peeler
strawberries
sunflower seeds (optional)
Method
Make pink houmous by grating the beetroot and then combining it with the houmous.
Spread the houmous evenly over the wrap and top with avocado.
Roll it up tightly and spear with cocktail sticks before cutting the wrap into 2" lengths (or which ever height you need to fit it into your bento box).
Then pack this in your bento box.
Arrange the carrot strands next to the rolls and scatter the sunflower seeds over.
Add strawberries in the remaining space.